Inspired by
this post
and
this post
by Meg over at the blog Whatever, I got out the Sharpies and watercolors and gathered my kids for some painting. . .and my thought was, hopefully a good half hour or so of no fighting.
We first traced circles onto our paper. Galeta and J did much better tracing
inside
a roll of masking tape than tracing the outside of a cup. For you with preschoolers, I recommend tracing inside a roll of tape or inside a round cookie cutter. You'll want to use a permanent marker so the ink will not run when you start painting.
Or you could do
what Meg at Whatever did
, she had her kids stamp the circles on the paper with a cup and black acrylic paint (but then you do have to let it dry).
After our circles were drawn, we colored them in with watercolors.
I felt like such a good mom. The kids were not fighting. . .they were thoroughly engaged in their paintings. I taught Galeta (
home from Ethiopia for 3 weeks now
) what a circle was and how to say it. We taught him the names of a few colors too.
I had organized an activity that kept a 4, 6, 10, 11, 14, and
almost
40 year old entertained. Really, it was like so peaceful for a good 40 minutes. Look at their faces.
Here's J's final masterpiece:
And here's Galeta's:
And here's mine. If you use LESS water, the colors will be brighter. My kids kept getting that confused in their heads. . .they thought it should work: more water =more color, but no.
Oh it was a fun 40 minutes for all of us. We have gotten out the sharpies and watercolors and paper many times since then. It is a perfect activity for all age groups.
And it is so not messy. Well, until someone spills the water. Tip: pour a little bit of water in a shallow dish with a wide bottom as opposed to a cup, and the spills will be fewer.
Let me know if you give it a try. One last picture because the colors make me smile:
And for more activities to do with the kids, check out my Pinterest board called Kids Crafts (really all kid activities I have filed here). Click here for such things as 10 recipes for homemade art supplies: fingerpaint, watercolor paint, puff paint, playdough, flubber, bath crayons, lick&stick; stickers, bubble mix, sidewalk chalk & chalkboard paint or 38 Kids Crafts and Boredom Busters for the Summer. Also check out Meg at Whatever. . her Craft Thursdays can be found here.

I am sharing this post over at:




And this activity was featured at: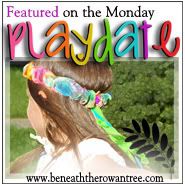 Click the buttons above to see other crafts, diy projects, makeovers, recipes, etc.