I'm a voracious reader. . .books, magazines, blogs, back of cereal boxes and shampoo bottles.
Nonfiction words are my preference. I love to wander the library or book store aisles and check out biographies or the latest on home decor, home organization, Christian living, parenting, entrepreneurship, marriage, personal growth.
Thought I'd start to share every now and then what I have been reading. Here's the latest 3.
1.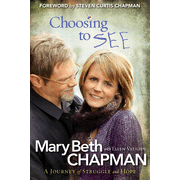 Choosing to SEE: A Journey of Struggle and Hope
As you may have heard in the news 3 years ago, Mary Beth Chapman and Steven Curtis Chapman (recording artist) loss one of their six children, their 5 year old who was adopted from China, in a tragic accident. In this book, Mary Beth Chapman shares her struggles and her wrestling with God. . .where is He when the worst happens? She shares the fact that her life did not turn out the way she planned or expected. . . over and over again.
There were two parts of this book that stood out to me. . that made me cry. . that made my soul hungry. . they were the parts where she shared about her girlfriends.
One part is where she shares how she is staying at a friend's house after the accident and one night she cannot sleep. Steven is sound asleep next to her, but she is restless and anxious and overcome with grief. So she goes to her friend's room and tells her she cannot sleep. . and her friend leaves her hubby and comes and gets in bed with Mary Beth Chapman (Steven is still there asleep) and holds her and prays over her and recites Scripture over her until Mary Beth falls asleep. Do you have girlfriends like that?
Now I told my girlfriend this and told her I did not want her to get in bed with me and Rob.
I am not a touchy person
which she already knew. So we decided she would lay on the floor and pray over me and read Scripture. It was a beautiful picture of friendship, of sacrificial love, of why we need girlfriends. And it made me want to be friend like that. I wont' share the other part. . .don't want to ruin it for you.
2. Only 54 days to Christmas. What? FishMama aka Jessica over at Life as Mom wrote a
free Christmas planning ebook
with lots of links to some of her past blog posts, recipes, and planning pages. I enjoyed looking at her
Christmas Pinterest page
and reading her tips for
make ahead holdiay meals.
Download FishMama's free ebook
and start planning now for a non hectic Christmas season or at least a less hectic December.
3.
Jen Hatmaker's post titled After the Airport
has been forwarded to me numerous times. And every time someone sends me an email titled Thought of You When I Read This Post and includes the link to her post, I read it again. And I cry. And I laugh. And I cry again.
Jen Hatmaker recently adopted a 5 year old and a 7 year old from Ethiopia. As many of you know, 5 months ago,
we too adopted a 7 year old from Ethiopia.
I felt like Jen Hatmaker had been sitting in on my and Rob's (hubby) late night conversations. Her post affirmed me and made me feel not alone. Her post also convicted me. I want to love like she describes in the last few paragraphs of this blog post.
You gotta go read
After the Airport by Jen Hatmaker
, because even if you have not adopted, we all have many realms of life that can be full of that initial euphoria followed by hard, hard work and times that call for dogged perseverance through many difficulties and challenges.
Tell me what have you been reading?? Any recommendations for me?
And the winner of the 60 min deep tissue massage is #43, Laura Corbett.